Tours-Bordeaux TGV line
10/03/2014

Since 2012, Entrepose has been operating on various civil engineering elements of this huge project.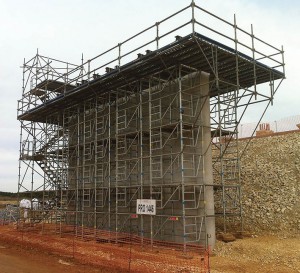 Bonded prestressed beam road bridges (PRO PRAD)
This methodology has been in used for several years, due to its speed of implementation.
Entrepose is carrying out the design and erection of the shoring of the piles that will carry the prestressed beams in the 15 road bridges in batch N°8.
Each bridge requires between 25 and 30 tonnes of equipment, including access stairways and perimeter decking to each pile, for the installation of the beams. Depending on the loads, and to meet the tight schedule, we have used various types of shoring equipment.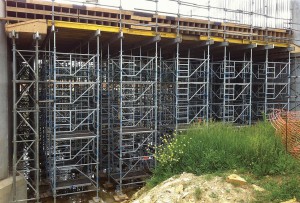 Rigid-framed railway bridges (PRA)
Entrepose designed and installed the shuttering for 6 bridges, with the supply, installation and dismantling of the formwork. This complete service helped our customer to meet their deadlines. 30 tonnes of materials were needed to complete each bridge.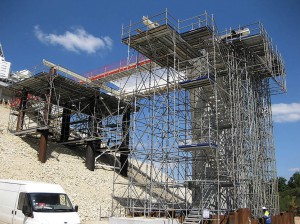 ​Keystone viaducts
The branch is coming to the end of it order for 7 viaducts. Our shuttering allows the arches to slide in order to install the keystones.
We are also providing safe, comfortable access to each work station for customer staff working on these initial spans, which are on the general schedule's critical path. 30 tonnes of Crabtour and Crabescal equipment is required for each viaduct (Bohème, Auxence Ouest and Est, Charente Nord and Médiane, Claix and Indre).