Hélicrab staircase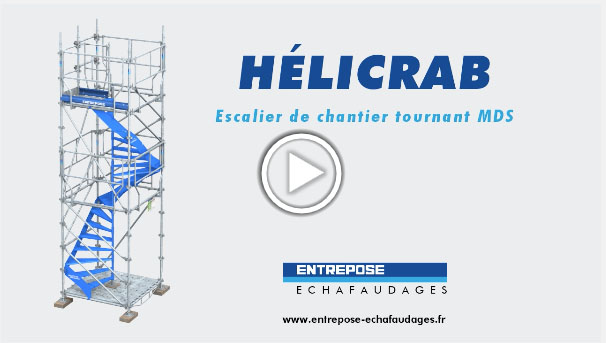 The Hélicrab access tower is based on the Multicrab system with 4 standards. It can be installed separately or as part of the scaffolding and is ideal for access in confined spaces where its small footprint (1.5 m x 1.5 m) makes it easy to erect
The Hélicrab staircase has 3 main lightweight components that can be erected by hand, lifting equipment is not required, with 2 additional safety components for assembly. No bolts are required.
Hélicrab is fully compatible with the Crab scaffolding range and provides a wide range of access heights, in multiples of 50 cm, and a flexible choice of angles, without compromising safety.
Hélicrab includes erection guardrails and an access platform which are fitted as the tower is erected, ensuring that the staircase can be assembled and dismantled in complete safety.
Small footprint (1,5 m x 1,5 m)
Lightweight components
reduces manual handling injuries&nbsp
Staircase components can be lifted by hand
Erection and dismantling with high level of intrinsic protection
Safe, easy access
conforms to EN 12811-1 Code of Practice for Access and Working Scaffolds
Access heights at any multiple of 50 cm
Compatible with the Crab scaffolding range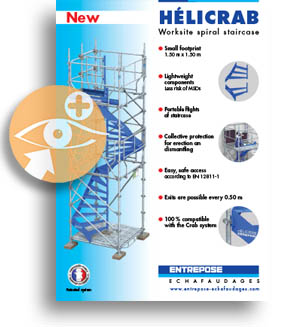 Some references: