Logistics
A single network covering the whole of France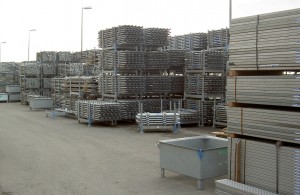 Entrepose Echafaudages boasts a network of 15 branches at your service, holding France's largest stock of scaffolding hire equipment.
Our goal is to be increasingly responsive to demand, and this is one of our main strengths, as our 15 nationwide sites allow us to provide, at very short notice if need be, large amounts of equipment, all of which is inspected whenever it returns from a site.
We provide both availability and local service.
Availability
The Entrepose Echafaudages stock management system is specially-designed and tailored to our business. It is a real-time system that allows us to display the stock available, item by item, in each of our branches, to ensure a high level of customer service.
Local service
With a network of 15 branches, Entrepose Echafaudages is able to provide a local scaffolding service. When required, Entrepose Echafaudages can even arrange delivery to your site.